Economic Development: The Holy Grail of Rural Success
By Ashley Spinks, Communications Coordinator, NTCA–The Rural Broadband Association
February 14, 2019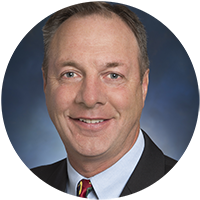 Lakeland Communications (Milltown, Wis.) has brought fiber internet access to nearly every community in Polk County, Wis.—all but a few, according to Lakeland President and Chief Executive Officer John Klatt. This massive project involved laying 600 route miles of fiber optic cable to more than 6,000 households in order to deliver state-of-the-art technologies.
In the eyes of Klatt, access to a robust broadband network is a key prerequisite to successful economic development in rural areas. Education and communication make the difference.
"A lot of people don't understand what economic development is," said Klatt. He is leading the charge to help people understand the substantive and direct benefits of local investment.
A Multifaceted Approach
Economic development can be a top-down or bottom-up proposal, and at least in Wisconsin, it's been a bit of both. Former Gov. Scott Walker launched the Broadband Forward initiative in 2016, which sought to "reduce regulation, restriction and permitting so that the state and our county could deploy quickly and heavily," Klatt said. But when Lakeland tried to expand its fiber network into CLEC territory soon afterward, it faced obstacles in the form of local county ordinances. "There was a new policy whereby we had to pay to use right of way, every road crossing had to be permitted … [and] the highway department wanted the revenue," Klatt explained.
"You need us. We're going to attract more to the tax base, which is going to help you attract businesses and people."
Klatt used an economic development argument to convince town and county supervisors that the regulations were burdensome and weren't in the best interest of the region. "I used the Foundation for Rural Service study on the economic impact of rural broadband," said Klatt, "We started educating [the supervisors] on economic development and the impact of fiber deployment." He told the supervisors, "You need us. We're going to attract more to the tax base, which is going to help you attract businesses and people." The argument was successful—and Klatt believes localities that are receptive to this line of reasoning will ultimately have more growth and success.
Marketing Your High Ground
Polk County sits right outside the greater Minneapolis/St. Paul metropolitan area, which means it's competing against potential brain drain into the Twin Cities but also, that all its component suburbs are competing with each other for the city-dwellers who want to move to smaller towns. Polk County features a national scenic river, two state parks, and the Ice Age National Trail. Recreational opportunities are available year-round, from hunting and fishing to snowboarding, kayaking and canoeing. "We're small, we're rural and everyone knows everyone. … We look out for each other, but along with that, we get to live in this beautiful area," said Sheri Thorsbakken, the office manager at Lakeland. Klatt described Polk County as "the Minneapolis playground"—a place to which urbanites can escape.
But to attract families and businesses for the long term, Klatt said, villages have to embrace the potential of broadband networks to foster economic development. In some Polk County villages, there is a resistance to modernization, which Klatt says can be combated with better education about how economic development can support a higher quality of life for all residents. Klatt wants to capitalize on that. "We've got an advantage right now to attract and sustain businesses in our community, because we are the high ground right now," he said. Not many rural communities are fiber-fit, Klatt said, but Polk County is. "We have a marketing advantage."
Polk County can therefore promote itself to potential businesses that want to move in, because when big companies are location-hunting, "They want the land, the sewer and water, and the broadband," Klatt explained. In Milltown, Wis., which Klatt counts as a rural economic development success story, two businesses moved in, and the community has since grown by more than 300 residents. "They invested in Milltown and believed in it," Klatt said, which allowed Milltown to win-out over other regional suburbs.
Sustaining Small Towns
After small, rural towns open their doors to new business opportunities, the benefits are immediate and manifold. Chain stores and the like buy land that can contribute millions annually to the tax base, Klatt said, and create jobs that will last far into the future. Diversifying is important so that these dividends can be sustained over the long term. As an example, Klatt cited the community of Luck, Wis., where much of the industry was based around the local prevalence of hard maple. Duncan YoYo and others with wood-based skill sets came to town and started furniture and home-building businesses, which suffered after the market crash in 2008. But if a town can attract and sustain a diverse economic base, it will help guard against these downturns. This will prevent local school enrollment from shrinking, for instance. Sustained growth will attract young couples and new families.
Klatt said he has a "personal interest in making sure the tax base and the community start to thrive, to lift itself so that everybody rises." And when it comes to encouraging economic development, Lakeland Communications has put its money where its mouth is. A few years ago, the company started a grant program to incent businesses to come to Polk County. The telco made an offer: "If we could attract them here as a customer, we will extend to them and give them Gig service, which would be in-kind for a five-year term," Klatt said. This means a new business would have access to top-tier broadband speeds free of charge for five years, which Klatt sees as a win-win for the broadband company and the new business. "It's probably even better than a cash donation, because that service value could be over $72,000." But it also keeps the business as a Lakeland customer, and keeps it in the local community as a contributor to the tax base and a job creator.
Planning Ahead
Klatt also envisions a future where economic development will be the primary driver of growing and sustaining rural broadband companies—a future in which Universal Service Fund mechanisms have been dramatically reduced. "I think we had better organically grow while we have a window of opportunity," Klatt said. "We need to attract businesses, diversify [and] build up our rate base, because as your community goes, so will your company go to supply broadband, voice and whatever else."
Klatt predicts that USF and other federal funding will not be available forever—and was never intended to be. "USF is just meant to be an augmentation, it's not meant to save the day," Klatt explained. "In the event that USF money will be reduced after buildouts are accomplished or completed … it's in our best interest to grow and strengthen our communities organically through economic development and attract all sorts of people and resources."
"We need to attract businesses, diversify [and] build up our rate base, because as your community goes, so will your company go to supply broadband, voice and whatever else."
Klatt said rural broadband companies must strike while the iron is hot, but luckily, they have a marketing advantage: "We can give any company anything they want with how versatile our fiber optic deployment is, and wireless and satellite can't say that."