ITS Fiber Provides Connections to Broadband—and Congress
By Ashley Spinks, Communications Coordinator, NTCA–The Rural Broadband Association
August 13, 2018
Town hall meetings are a signature of local politics—they offer community members an opportunity to air grievances, weigh in on proposed ordinances and speak directly to their public officials. Building relationships with town council members, county administrators, mayors and the like can help residents share their perspective and lobby for needed resources. It is often more difficult to interact with members of Congress, but due to the work of ITS Fiber (Indiantown, Fla.) and president and chief executive officer (CEO) Jeff Leslie, rural Floridians will have the opportunity to attend a Community Conversation with Rep. Brian Mast (R–Fla.) this August.
In small towns throughout rural America, broadband providers are seldom just broadband providers. While ensuring that rural Americans have access to robust internet connections is itself an important goal, local broadband providers often go a step—or two, or three—further. At ITS, employees do everything from volunteering in the community to joining the boards of local organizations. The company donates money toward every pig raised by a child in 4-H. It is the banner sponsor of the annual Indiantown Rodeo. "If it's in Indiantown, we're involved," said Leslie. 
Like many rural, locally-owned businesses, ITS has become an institution of Indiantown and the surrounding community. It's more than a broadband company and can provide its customers with valuable resources besides an internet connection. Leslie has strong relationships with local officials—everyone knows everyone in small town America—and has become acquainted with Indiantown's representative in Congress, Brian Mast, through his own rural broadband advocacy.
Leslie said he visited Mast at his office in Washington, D.C., during NTCA's annual Legislative and Policy Conference, during which he also met both senators from Florida. "We visited them to tell them about ways that we needed their assistance," and to ask them to sign the FCC letter about high-cost USF budget insufficiency, Leslie said. Mast did sign that letter, which recently received a response from FCC Chairman Ajit Pai, and the congressman's meeting with  Leslie prompted further collaboration between the two men.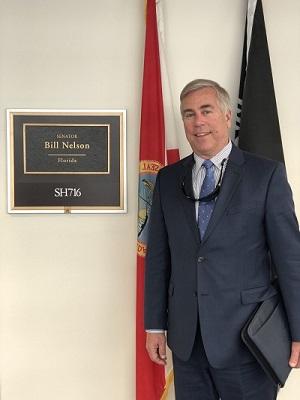 Last year, Mast came to Indiantown for the rodeo that ITS helps to sponsor. It is, according to Leslie, "the biggest event in town," so it meant a lot to have a member of Congress in attendance. "We've just been trying to develop this rapport and a relationship," Leslie said, because "he seems willing to support rural broadband." Beyond that, Leslie wants to give a voice to his customers—fellow members of his community. "When you're in a small, rural town … the people who live here just don't get much of a voice on anything. If we can help [Mast], it gives everyone here a chance to get their voice heard," Leslie said, and it was this sentiment that motivated him to bring Community Conversations to Indiantown.
In addition to serving Indiantown with fiber internet, ITS has built fiber infrastructure to Port St. Lucie, Fla., where Mast has his primary local office. Recently, Mast acquired office space in Indiantown as well.
Moving forward, Leslie hopes this will mean that Mast is in town more often, and his friends and customers can get more "face time" with the congressman. In pursuit of that goal, ITS hosted the first Community Conversation at its own offices on August 14—a town hall-style event that Mast and his staff attended.
Leslie said the events are not content-specific; although they are held at ITS, he expects people to talk about issues beyond rural broadband access. But, broadband will likely be on the agenda given the increasing importance of being able to access the Internet. Because of recent changes at the FCC with regard to budget controls, ITS has only been able to reach 85% of its customers with fiber, rather than 100% as it had hoped. "This gives our customers who are not on fiber a chance to … say something to him about what it's like when all you have is DSL," Leslie said.
In a small town like Indiantown, Leslie said, small efforts to support the community go a long way. Residents "not only need your help, they really do appreciate it," he said. "We're just trying to get Indiantown plugged in."