NineStar Connect's Idea Co-Op Is Making Rural Indiana Cool
By Ashley Spinks, Communications Coordinator, NTCA–The Rural Broadband Association
March 21, 2019
Jill Snyder could convince anyone to move to Greenfield, Ind. As director of business and economic development for NineStar Connect (Greenfield, Ind.), Snyder has spearheaded initiatives to promote broadband access and cultivate high-tech talent in the areas surrounding Indianapolis. She is a passionate advocate for her community, and although she previously worked in marketing for startups in the nearby city, she knows "there's no reason you can't have a very successful tech career in [NineStar's territory], as long as you have broadband."
NineStar's latest project is the repurposing of an existing building to create a massive, 18,000 square-foot co-working space that the company has dubbed the Idea Co-Op. The co-op, located on 36 acres in Greenfield, includes 26 tillable acres for agritech uses; podcast and video recording rooms; a fitness center; a café; a 3-D printing lab; and both individual offices and group education rooms. The Idea Co-Op is funded entirely by NineStar—while most co-working spaces aren't profitable ventures, Snyder admitted, "We just want to cover our operating expenses. We hope it will spawn new businesses … In our service territory." 
NineStar has already made significant efforts to improve quality of life in rural Hancock County. The company—which is the result of a merger between Hancock Telecom and Central Indiana Power—claims to be the "only rural co-op in the United States to offer fiber optic, electricity, water and sewer services." Its mission, the company said, "is to deliver the utility infrastructure needed to drive economic development and growth for rural communities." Before the Idea Co-Op came to be, NineStar invested in fiber-to-the-home technology for all of its electric customers. Now, the service territory has access to robust broadband connections that can support a wide variety of applications—including teleworking and building a business at the Idea Co-Op.
That's the cool thing about what NineStar has done. With access to broadband, you can create small businesses in these small towns to revitalize them."
Anchoring the Community
In addition to the potential economic development, NineStar hopes the Idea Co-Op will foster innovation and a sense of community. Facilitating a telework culture goes beyond laying fiber, Snyder explained. "People like to be around like-minded individuals, and they need that social interaction," Snyder said. Furthermore, despite NineStar's valiant efforts, "Not every single home in Hancock County is connected," she explained. Some Hancock County residents want or need to access the internet, but still can't do so from their homes. Anchor institutions such as libraries, schools and now, the Idea Co-Op, help solve this problem.
Snyder has firsthand evidence that building a strong, economically productive community by leveraging broadband can work: Her oldest son and his wife just moved back to Indiana from Silicon Valley, she said, and "they bought a house in NineStar territory, they have our broadband, and they're both staying tethered to their Silicon Valley companies. They're also members of the Idea Co-Op, for when they want some social interaction." Helping people access good-paying, remote jobs, Snyder said, "lifts the whole community."
Snyder said a gap in the commercial leasing market prevents startups from gaining a foothold in rural and suburban areas. "Commercial office space requires a 2–3 year lease, and when you're first starting out, you can't expose yourself that way," Snyder said. But often, self-employed people and new business owners can't work from home, either. "I know an insurance agent who has four kids under the age of four," Snyder said. "She can't get any work done from home."
The goal, Snyder explained, is to encourage startups and small businesses to join the Idea Co-Op, then support their work until they can "graduate" to a larger space. "The rule of thumb is [that] when they get to 6–8 employees, they have to graduate from these types of spaces and find their own home, we hope in our service territory." If new businesses can put down roots in Hancock County, Snyder said, "Then they become [NineStar] customers. They hire more people for good-paying jobs. It's a self-fulfilling prophecy."
Outsourcing to a Rural Tech Hub
Indianapolis, Snyder said, is "exploding with software companies"—such as Salesforce, which just opened its second headquarters in the city. "There are 1,000 open programming jobs in Indianapolis that can't be filled," said Snyder. "I've got a mission for the co-op. … There's a thing I like to call 'rural outsourcing.'" Instead of outsourcing these programming jobs internationally, Snyder wants them to stay in Indiana and go to rural residents with broadband connections.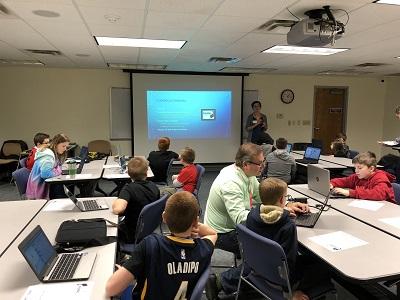 To make this happen, part of the Idea Co-Op's role in Hancock County is going to be sparking an interest in tech for local residents.
To that end, the co-op regularly conducts "Coder Dojo" courses for local youth—the registrations for which, Snyder said, are always full. NineStar Connect partnered with TechPoint, a nonprofit in Indianapolis, to bring 10 Chromebooks into the co-op, as well as instructors to teach the coding classes. "We do these classes for free, first-come, first-served. It's just incredible how these kids get hooked, and I want to do more of that," Snyder said.
"I've got a mission for the co-op. … There's a thing I like to call 'rural outsourcing.'
The true testament of the co-op's success in Hancock County, though, is how its current members talk about the space. John Mascoe is the founder and chief executive officer of VanCoe Ag Technologies, which has been renting space at the Idea Co-Op and utilizing its tillable land to develop and demonstrate new agriculture technologies, such as satellite imagery and monitoring for crop nutrient-delivery systems. This space, Mascoe said, "Enables small startups and entrepreneurial people to come in and solve a problem."
"What I see happening is that we're a hub for collision," he continued. The Idea Co-Op is a place where agritech inventors and investors can see how new and varied technology can be integrated together. Furthermore, he said, "If we have access to these resources, we can bring in people who wouldn't normally come to the area. … That's the cool thing about what NineStar has done. With access to broadband, you can create small businesses in these small towns to revitalize them."