Advocacy Issue
Universal Service & Infrastructure
Perhaps no policy concern is more important to the deployment and sustainability of advanced communications networks in rural America than universal service. In rural areas where distance, density, and topography combine to create unique challenges, an essential mix of community commitment, entrepreneurial spirit, access to capital, and ongoing support through federal universal service programs provides the only proven track record for success in advancing broadband.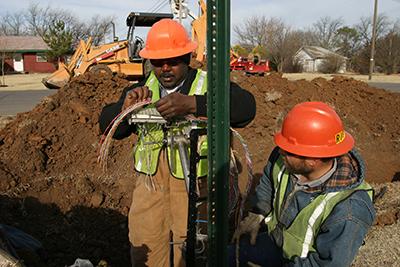 Why It Matters
Promoting a predictable and sufficient federal Universal Service Fund (USF) is a top policy priority for NTCA and our members. Without USF support, it is difficult to make the business case to invest in many rural areas. A provider can neither obtain loans nor justify the use of its own capital for network construction if USF support is unavailable, insufficient or unreliable in assisting with the recovery of costs so that consumer rates can remain affordable. 
Another important aspect of universal service policy is ensuring that the networks built in rural America can stand the test of time as elements of critical national infrastructure. As network assets are built to last decades, NTCA advocates for policies that promote sustainable "future-proof" networks that can meet consumer needs both today and for many years to come. 
USF Success Story
Golden West Telecommunications
The service area of Golden West Telecommunications—a 2018 Smart Rural Community (SRC) Showcase Award winner—spans nearly 25,000 square miles across rural South Dakota, including five tribal communities. Cuts in USF support forced Golden West to limit plans in past years for deployment of increased network capacity to a number of rural communities; however, in the wake of the FCC's December 2018 USF Order, Golden West revised its plans to extend fiber connections to at least 2,400 additional locations in 2020— nearly 1,000 more locations than in 2019. These locations include farms, which benefit from broadband connections for "connected-ag" applications such as crop and soil sensors or livestock monitoring, and a number of homes where connections may also be used for home-based businesses or teleworking. Golden West Chief Executive Officer Denny Law said rarely a week goes by that he doesn't hear a customer describe a unique way they are using broadband technology. "That's what we are enabling, and that's what keeps us going," Law said.