Things to Do in Seattle
Seattle is two cities in one. It's a world-class metropolis set within wild, beautiful, natural surroundings, offering the best of the urban lifestyle while embracing the rugged outdoors. Many of Seattle's top visitor attractions are within mere blocks of the Washington State Convention Center, including the Pike Place Market, Pioneer Square, Seattle Art Museum, Seattle Symphony, ferries, world-class restaurants and a historic theatre district. Three national parks lie within a two-hour drive of Seattle, and the city is a gateway to the San Juan Islands, Olympic Peninsula, Washington Wine Country and British Columbia.
We want to help you make the best of your travels, so we're helping you take the guesswork out of what to do by offering a variety of tours below.
Video Courtesy of visitseattle.org
Foundation for Rural Service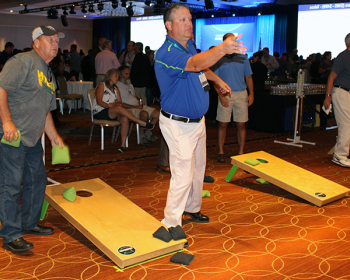 Cornhole Tournament
September 16
4:30 p.m. – 7:00 p.m.
Cost: $55/person
Have fun and bring your competitive spirit. The Foundation for Rural Service (FRS) cornhole tournament is back! Sign up to see if you're the best cornhole player at Fall Conference, and you could win. You'll be supporting FRS and starting friendly challenges with board members and colleagues. This exciting, live action event is held during the Welcome Reception.
Cornhole is an easy game that everyone can play. It's like horseshoes, except you use wooden platforms and corn bags in place of horseshoes and metal stakes. We will place you on a team or you can let us know who you want to play with when you register online. Cash prizes are given to the top three teams.
Emerald City Trapeze
September 17, 2018
6:30 p.m. – 9:30 p.m.
Cost*: $150/person
With its rustic charm and funky décor, guests will enjoy one of Seattle's most unique special event venues. However, the real magic is up in the air! Imagine dining under the trapeze net while enjoying high flying trapeze, dazzling aerial performances, and sensational circus acts.
Join FRS at Emerald City Trapeze to experience a truly memorable evening.
* Includes: dinner buffet, hosted wine and beer bar, and round-trip transportation. Thirty-five dollars of the ticket price is tax deductible.
The Foundation for Rural Service is a nonprofit, 501(c)(3) organization. All proceeds from the event will benefit the foundation's programs and initiatives.
NTCA Rural Broadband PAC/RTAF
Ingenuity, Artistry and Beer
September 16
10:30 a.m.–5:00 p.m.
Cost: $140/person
Spend a fun-filled day exploring the Puget Sound, beginning with a tour of the LeMay Car Museum, which spotlights America's love affair with the automobile. With a nine-acre campus in the shadow of Mt. Rainier, it is one of the world's largest auto museums and is sure to impress even the most devoted car enthusiast. For lunch you will enjoy delicious gastropub fare at 7 Seas Brewing located in the historic Heidelberg Brewery. Conclude the day with a trip to the Tacoma Glass Museum. Founded by renowned glass artist Dale Chihuly, it features a celebrated collection of glass artwork from around the world.
For questions or information on sponsorship opportunities, please call (703) 351-2033.
This event is open to all attendees and benefits NTCA Rural Broadband PAC administrative fund, the Rural Telecommunications Administrative Fund (RTAF) and NTCA advocacy efforts.
Special Thanks to Our Event Sponsors
Endeavor Communications, Mapcom Systems, Pioneer Telephone Cooperative, Plus One Strategic Communications, LLC
Tours
These tours showcase Seattle and its surrounding areas. Register for tours when you register for the meeting. Tour registrations are taken on a first-come, first-served basis. Tours that do not meet the minimum number of attendees will be cancelled by NTCA and refunded; you will be notified prior to the conference. Tour registrations are nonrefundable for no-shows and cancellations after Friday, August 17. All tours will depart from the Sheraton Seattle lobby.
Tours 1 - 2: Seattle City Tour
September 16

Tour 1: 8:00 a.m. – Noon.

SOLD OUT*


Tour 2: 1:00 p.m. – 5:00 p.m.

SOLD OUT*
Cost: $49/person, Each tour

Board a luxury motor coach to see the highlights of Seattle. Enjoy an informative tour of the city's neighborhoods from the perspective of a Seattleite who will tell the history and interesting stories that make the city unique. See the historic Pioneer Square, visit the famous Pike Place Market, enjoy water-filled views, cruise through some neighborhoods and see highlights of Seattle Center—home of the Space Needle—built for the 1962 World's Fair. 

*Tours 1 & 2 are sold out. To be placed on the waitlist, please contact us.
Tour 3: Discover Bainbridge Island
SOLD OUT*
September 17
8:00 a.m. – 3:00 p.m.
Cost: $139/person
Take a trip across Puget Sound to beautiful Bainbridge Island for an escape from the cityscape. Following a quick ride aboard a ferryboat,  you will have the opportunity to explore and shop in both Winslow, the charming downtown area of the island with a small-town feel, and Poulsbo, a former fishing town dubbed "Little Norway" thanks to its Scandinavian roots. A premium box lunch is included. Then, the trip ends as it began, with a scenic trip back across the beautiful Puget Sound.
*Tours 3 is sold out. To be placed on the waitlist, please contact us.
Tour 4: Lakes Cruise: The Backyards of the Rich & Famous
SOLD OUT*
September 18
12:30 p.m. – 4:30 p.m.
Cost: $159/person
All aboard for an exclusive cruise around Lake Union and Washington. The sightseeing cruise takes passengers on a unique tour through the city by water. Your guide will point out the fascinating history and interesting facts of the places you see. Discover how Seattle made its mark in aviation history and learn about the area's transformation from a pristine wilderness to its exciting role in bio-technology. See Seattle's historic community of floating homes and spectacular scenic views.
*Tours 4 is sold out. To be placed on the waitlist, please contact us.
Tour 5: Waterfalls & Wine Tasting
September 19
10:00 a.m. – 4:00 p.m.
Cost: $179/person
Situated on the same latitude as the French wine country, Washington State has a growing wine industry and is the nation's second largest premium wine-producing region. Nestled in the Sammamish River Valley, Woodinville is a small community that has become a haven for fine winemakers. Travel to Woodinville and taste your way through some of the state's most celebrated boutique wineries, including Chateau Ste. Michelle, Mark Ryan and Delille Carriage House.
Dine Around Seattle
With NTCA Staff and Your Peers
Connect with NTCA staff and your industry peers all while you enjoy one of Seattle's famed restaurants. Sign up for a Dine Around dinner on Sunday, September 16, 7:00 p.m. Participants will pay for themselves at the time of the meal. Space is limited, so don't delay.
Below is a selection of Dine Arounds you can join.
Award-Winning French Cuisine With a Twist
Join NTCA Senior Vice President of Staff and Member Engagement Lori Fischetti and Vice President of Member Relations Janet Cloyde for an incomparable dining experience at Loulay Kitchen & Bar. Winner of Seattle Met's 2014 Restaurant of the Year, Loulay features delicious French cuisine with a modern twist and is conveniently located in the Sheraton Seattle – no walk required! This dine around option features a preset menu.
Retro Vibes and Great Food with FRS
Join the Foundation for Rural Service team—Jessica Golden, Annette Peterson and Brock Streauslin—for dinner at the Carlile Room, the 13th restaurant in Seattle by James Beard Award winner and restaurateur Tom Douglas. Inspired by singer/songwriter Brandi Carlile, the restaurant has "explosive vibes of the late-sixties/early-seventies in its décor and classic seventies-era lounge cocktails." Offering modern and traditional American food, the Carlile Room is located within a 5-minute walk from the conference hotel.
Craft Beer + Good Eats
Enjoy local specialties paired with a variety of craft beers from the tap with the NTCA training and development team: Mark Marion, Dennis McGarry and Mike Riddile. The Tankard & Tun is Seattle-based Pike Brewing Company's highly-rated restaurant, featuring locally-sourced surf & turf options, including an oyster bar.
Locally-Sourced Seafood Downtown This Dine Around is now full
Enjoy fresh seafood and regional ingredients at Shaker + Spear with NTCA staff Jennifer Jushchuck, Leif Oveson, Scott Lively and April Irwin. Set inside a historic 1910 building in a neighborly atmosphere, the restaurant designed by renowned Seattle architects Graham Baba is nestled between Seattle's coolest neighborhoods: Belltown and West Edge.
Please sign up by September 14